Our Product
Sticker Labeling Machine/ Shelf Adhesive Labeling Machine
Application & Process:
The Automatic Sticker Labeling Machine is one of the most users friendly. The machine is used for full/partial wrap around labeling on different size & shape of container like PET, Plastic, HDPE, LDPE, Glass Bottles. It is widely use in Pharmaceutical, Cosmetics, Food Products Industry.
It is capable of labeling up to 150 containers per minutes depending on products and label size. The automatic model is equipped with roller spacing device resulting in a simple to "No change parts required".
The containers positioned on conveyor are released at equal distance by creating space between two containers with the help of roller spacing device. At the labeling point, an electronics product sensor senses container & releases a label from self adhesive label roll. If machine is equipped with batch printing device, batch printing device prints the batch no. & others matter on label while label is stationary between dispensing of two labels. The sensed container moves on conveyor and picks the released label, then labeled container moves further through a rubber pressing belt & stationary rubber pad which ensures neat & perfect fixing of label on the container diameter.
Salient Features:
Design as per stringent cGMP requirements.
Machine structure is made from AISI 304 with matt finish.
Suitable for any size & shape of container.
High speed and accurately placement of label on container.
Label drives through high precise stepper motor and can be provides servo drives motor.
Micro Processor base control panel for synchronized conveyor, label drives & printing unit.
Conveyor drives through variable frequency drive.
Very easy to operate & change products.
No change parts required for different size of bottles/ container
Adjustable bottle height gauge for easy and quick setting.
Outside cap feeder system as per cGMP norms.
Minimum and maximum level of cap in chute to be maintain through sensor hence to avoid damage & rubbing of cap.
Inching system provide for setting of sealing operation.
Technical Specification:
Model

PSL-150

Output per minute

40 to 150 Container per minute

Electrical Specification**

Conveyor Motor

0.50 HP, 415 Volts, 50 Hz

Pressing device motor

0.25 HP, 220 Volts, 50 Hz

Sticker Roll Stepper motor

48 kg excel make

Label Specification

Length**

30 mm to 180 mm

Width **

16 mm to 100 mm

Roll Diameter

Max. 300 mm X ID 75 mm

Space between two label

Min. 3 mm in anti clock wise.

Height of Conveyor**

860 to 910 mm

Machine Dimensions**

1835 mm (L) x 600 mm (W) x 1450 mm (H)

Net Weight

350 Kg
Automatic Self Adhesive Labeling Machine: Single Side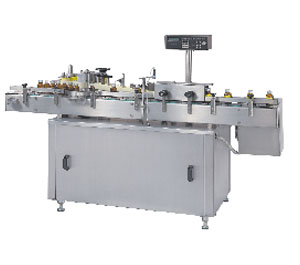 Automatic Self Adhesive Labeling Machine: Double Side